Important Announcement
There is no Gold Card Club meeting scheduled at this time.
CONGRATULATIONS NEW GOLD CARD OFFICERS - Nominated on October 12, 2021!
Gold Card Officers
Joseph Glover, President
Don Adanuncio, Vice President
Waheedah Muhammad, Secretary/Treasurer
Willis Outlaw Jr., Sgt.-At-Arms
Joe Bogdan, Trustee
Eve Greenleaf, Trustee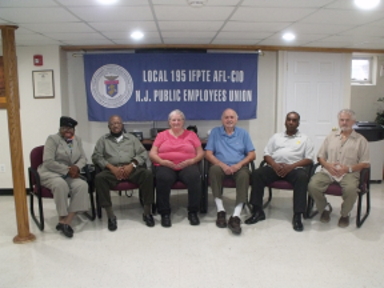 Local 195 has established a Gold Card Retiree Club aimed at assisting all Local 195 retirees in their ensuing retirement years. We are hoping you will consider joining your union brothers and sister by becoming a part of this group.
If you have recently retired, or are planning on retiring, please inform your chapter president. A gold card with your name engraved on it will be ordered and mailed to you along with the gold card club information and a form to join.
You can also download a Gold Card Order form by clicking here and faxing the form to the Local office at 732-247-2474.