Important Announcement
Thank you to all those who turned out for the Making Strides Breast Cancer Walk on October 22, 2022 at Metlife Stadium, East Rutherford, NJ.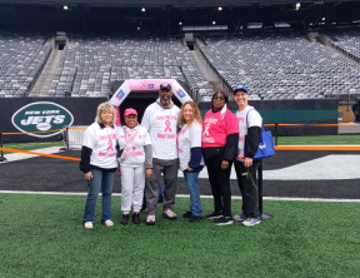 CLICK HERE TO VIEW MORE PHOTOS FROM THE BREAST CANCER WALK.
Women's Committee Officers
Sherry Thomas, Chair
Yvonne Seay, Co-Chair
Diane Moore, Secretary/Treasurer
Vacant, Sgt.-At-Arms
Promote union involvement and advancement of women members, address women's and men's health issues, hold bi-annual meetings to solicit ideas and suggestions to be able to serve our membership structure. Men and women are welcome at our meetings.
Please encourage your chapter members to join us at one of our future meetings. Should you have any questions, please call the Local office at 732-247-0350 or Sherry at 201-705-6824. We also collect notions/lotions and non-perishable food items for tWomen Aware Women's Shelter and The Middlesex County Food Pantry.